TOPIC: CHANGES TO THE INSOLVENCY LAW IN GUERNSEY: HOW WILL THIS AFFECT YOU?
SPEAKERS: BEN RHODES & JAMIE TOYNTON, GRANT THORNTON
ABOUT THE LECTURE
In January 2020, the States of Guernsey approved changes to Guernsey's insolvency law, which are anticipated to come in to force shortly. The changes are wide-ranging and include: a requirement for liquidators of insolvent companies to be independent; greater consultation with creditors of insolvent companies; obligations for liquidators and administrators to report misconduct; and, greater powers for liquidators and administrators to obtain information.
Ben Rhodes has been assisting the States of Guernsey with the insolvency law reform since 2015 and now sits on Guernsey's first Insolvency Rules Committee.
Ben and his colleague Jamie Toynton, both directors of the Grant Thornton Channel Islands Recovery & Reorganisation team, will be discussing the impact of the insolvency law reform and how it will affect you.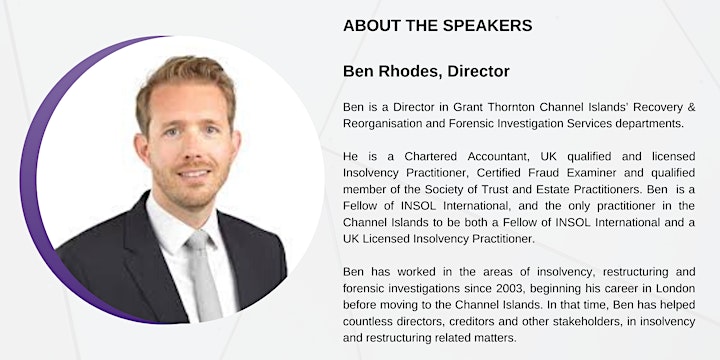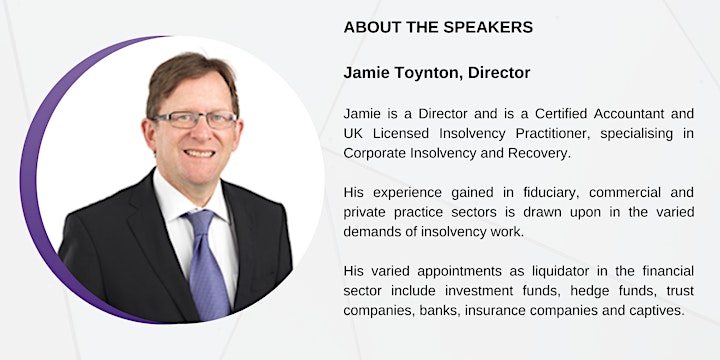 NOTES FOR ATTENDEES
This webinar will be recorded and available following the event on a web link – this will be sent to those who have registered in order to watch at their leisure if they are unable to attend the live webinar.
Please note that STEP Worldwide have confirmed that in order to claim your STEP CPD points for attendance, you will need to self certify. To do so you must register to attend and watch the entire lecture. You may then record this in your usual way. If called by STEP for audit, you would be expected to explain that you had reflected on the learning obtained from this activity and identify how it would assist you at work. If you submit to another professional body they may have different requirements so please check these directly with your regulator.
The STEP Guernsey Lecture Series is kindly sponsored by Ogier